The 81st annual Academy Awards went off without a hitch last night at the Kodak Theater in Hollywood, California.
The winner of the night with a total of 8 awards was no surprise, Slumdog Millionaire, who received the honor of Best Picture, Best Director and Best Adapted Screenplay along with a few other awards.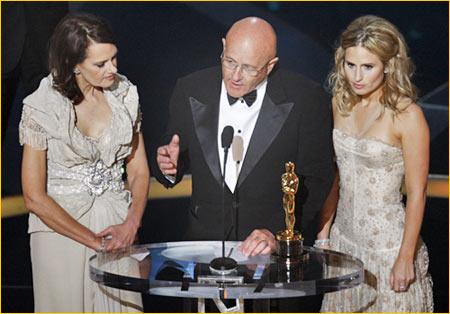 Heath Ledger's family accepted his award on behalf of his daughter Matilda for his supporting role in 'The Dark Knight.'
Kate Winslet received best actress for her performance in 'The Reader.'
Images of fashionable men from Oscars past...
First time presenter, Eric Bana, wore a two-button lean line Calvin Klein tuxedo down the famous red carpet for the 78th annual Academy Awards. Flap pockets and a white evening shirt complete with bow tie, were added to his finished dapper look.
Orlando Bloom made his first presentation in the 77th in a tuxedo from designer Dunhill. His peak lapel jacket coordinated with an asymmetric vest, formal shirt and bow tie.
The always stylish, George Clooney, attended the awards ceremony in Hollywood last night. In his two-button tuxedo trimmed with satin, worn with white shirt and the classic black bow tie he was one of the most dashing men the red carpet has ever seen.
Classic looks that go a long way. You don't need a red carpet to finish off the perfect look, click
here
to find cufflinks for your next formal event.