While sometimes we can't afford to drop big bucks on the latest designer suit for work, there are ways to make any suit look better, be it $500 or $5,o00.
Every suit can use alterations. Alterations help keep the suit trim and fit the suit to you rather than the other way around.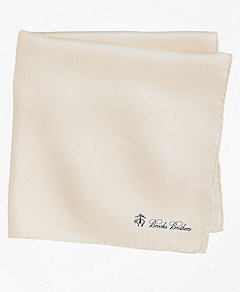 A pocket square can go a long way. This ivory pocket square from Brooks Brothers is pure silk, made in Italy and costs $35.
Tie Bars add an elegance to your look. Not only do they keep your tie in place, tie clips add a subtle touch to the perfect outfit. Tie clips and bars seal the deal, when it comes to having everything in the right place, including your tie.
A pair of shoes can make or break the look you were going for. Men.style.com suggests investing in one nice pair you can wear with all of your suits. Today's most popular style of dress shoe is the mildly pointed-toe loafer. These are leather and almost never have laces. They should be as narrow as is comfortable to create a long slender appearance of the leg continuing on forever. A boxy toe or a rounded toe don't work well. An exception to that statement comes with wearing a tuxedo. A classic shoe for a tuxedo cut is a rounded toe.
Dress down your suit. You don't always have to be at the office to be seen looking stylish. Wear your jacket with a polo and a pair of vans or converse.
A great relaxed pair of kicks you should know about is TOMS. Since 2006, for every pair purchased, TOMS has donated a pair of shoes to children in need.